Harga All New Corolla Altis Bandung 2021
. Spesifikasi, Fitur dan Harga Toyota All New Corolla Altis terbaru
Harga All New Corolla Altis Bandung 2021 | Info Sales : 081222926915
| TYPE | ON THE ROAD |
| --- | --- |
| COROLLA ALTIS | |
| NEW COROLLA ALTIS G A/T | 498,700,000 |
| NEW COROLLA ALTIS G A/T (Premium Color) | 501,700,000 |
| NEW COROLLA ALTIS V A/T | 520,150,000 |
| NEW COROLLA ALTIS V A/T (Premium Color) | 523,150,000 |
| NEW COROLLA ALTIS HYBRID A/T | 598,200,000 |
| NEW COROLLA ALTIS HYBRID A/T (Premium Color) | 601,200,000 |
– Harga dan Program Penjualan tidak mengikat sewaktu waktu dapat berubah
– Harga Toyota Corolla Altis Bandung ini berlaku Per Januari 2021, untuk daerah Bandung & Jawa Barat
– Simulasi Perhitungan Kredit Toyota Corola Altis Bandung dengan DP / Angsuran yang diinginkan, kontak kami!
– Berikut Daftar Paket Kredit Toyota Corola Altis Bandung
– Untuk informasi spesifikasi & fitur, Download Brochure / Brosur Corolla Altis
– Informasi Promo & Diskon, silahkan hubungi kami !

Kontak Sales Toyota Bandung :
Spesifikasi Toyota Corolla Altis
BEYOND EXTERIOR
The All-New Corolla Altis combines prestige with passion that brings head-turning on every turn. A combination of pleasant driving experience and captivating appearance, All-New Corolla Altis generates affectionon every journey.
BEYOND INTERIOR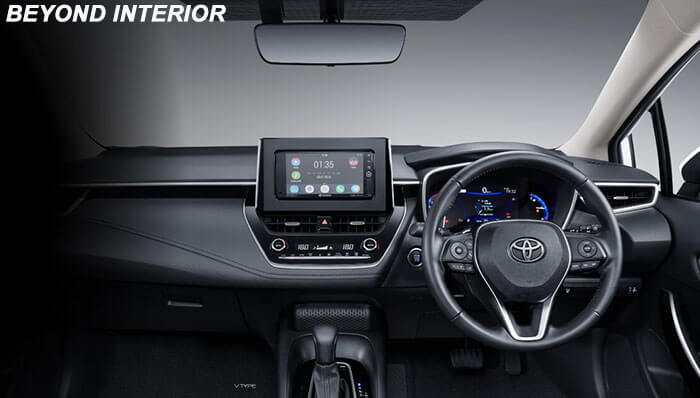 Ride peacefully with spacious elegant interior with spacious elegant interior that gives pleasures with a dynamic yet comfortable feeling.
BEYOND SAFETY
The Toyota Corolla Altis carries state technology and designed to help keep you alert and safe.
Pilihan Warna All New Corolla Altis :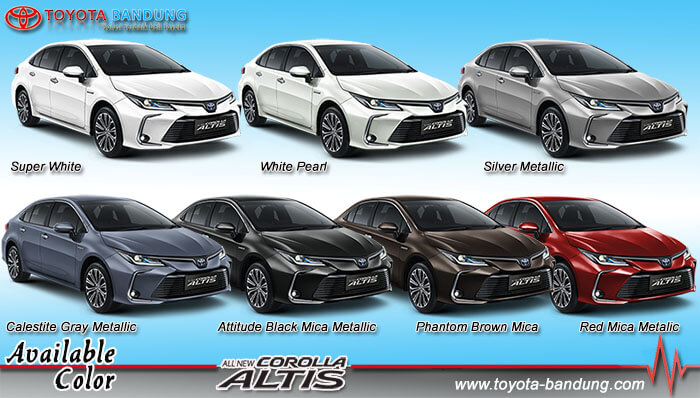 Super White
White Pearl
Silver Metallic
Calestite Gray Metallic
Attitude Black Mica Metallic
Red Mica Metalic
Phantom Brown Mica
All New Corolla Altis
SPECIFICATIONS
NEW ALTIS G A/T
Dimension

Overall Panjang/Length 

4,630

Overall Lebar/Width 

1,780

Overall Tinggi/Height 

1,435

Jarak Poros Roda/Wheelbase 

2,700

Jarak Pijak/Tread (Depan/Front) 

1,531

Jarak Pijak/Tread (Belakang / Rear) 

1,544

Chassis

Transmisi/Transmission Type 

7-Speed CVT

Suspensi Depan/Front Suspension 

MacPherson strut

Suspensi Belakang/Rear Suspension 

Double Wishbone

Rem Depan/Front Brake

Ventilated Disc

Rem Belakang/Rear Brake 

Solid Disc

Sistem Rem Tambahan/Additional Brake System 

ABS + EBD + BA + VSC + HSA

Ukuran Ban/Tires Size 

205/55 R16

Engine

Seri Mesin/Machine Serial 

2ZR-FE
NEW ALTIS V A/T

Dimension

Overall Panjang/Length 

4,630

Overall Lebar/Width 

1,780

Overall Tinggi/Height 

1,435

Jarak Poros Roda/Wheelbase 

2,700

Jarak Pijak/Tread (Depan/Front) 

1,531

Jarak Pijak/Tread (Belakang / Rear) 

1,544

Chassis

Transmisi/Transmission Type 

7-Speed CVT

Suspensi Depan/Front Suspension 

MacPherson Strut

Suspensi Belakang/Rear Suspension 

Double Wishbone

Rem Depan/Front Brake

Ventilated Disc

Rem Belakang/Rear Brake 

Solid Disc

Sistem Rem Tambahan/Additional Brake System 

ABS + EBD + BA + VSC + HSA

Ukuran Ban/Tires Size 

205/55 R17

Engine

Tipe Mesin/Engine Type 

4 – Cylinder In-Line, 16 – Valve DOHC with Dual VVT-i
COROLLA ALTIS HYBRID

Dimension

Overall Panjang/Length 

4,630

Overall Lebar/Width 

1,780

Overall Tinggi/Height 

1,435

Jarak Poros Roda/Wheelbase 

2.700

Jarak Pijak/Tread (Depan/Front) 

1.531

Jarak Pijak/Tread (Belakang / Rear) 

1.544

Chassis

Transmisi/Transmission Type 

CVT

Suspensi Depan/Front Suspension 

MacPherson Strut

Suspensi Belakang/Rear Suspension 

Double Wishbone

Rem Depan/Front Brake 

Ventilated Disc

Rem Belakang/Rear Brake 

Solid Disc

Sistem Rem Tambahan/Additional Brake System

ABS + EBD + BA + VSC + HSA

Engine

Seri Mesin/Machine Serial 

2ZR-FXE

Tipe Mesin/Engine Type 

4 – Cylinder In-Line, 16 Valve DOHC with VVT-i

Isi Silinder/Displacement (Cc) 

1.798

Diameter X Langkah/Bore X Stroke (Mm) 

80.5 x 88.3

Daya Maksimum/Maximum Output (Ps/Rpm) 

95 / 5,200

Torsi Maksimum/Maximum Torque (Kgm/Rpm) 

14.47 / 4,000

Sistem Pemasukan Bahan Bakar/Fuel System 

Electric Fuel Injection (EFI)

Bahan Bakar/Fuel 

Gasoline

Kapasitas Tangki/Fuel Capacity (Liter) 

43